Amazon chrome extension plugins can be particularly useful for sellers on the platform. We are going to take an in-depth look at several of the most popular extensions that you might want to add to your browser.
We will be providing brief extension descriptions as well as an in-depth look at some of the most popular features on that particular Chrome extension.
Looking for a list of Amazon chrome extensions that will increase your productivity and analyse the data on the fly, look not further.
From product research and keyword volume to digging deep into the data of your competition. Work smarter, not harder with these 12 tried and tested tools to add to your browser to speed up those daily Amazon business tasks.
The Best Amazon Chrome Extensions for 2023
The Jungle Scout chrome extension for Google Chrome is extremely popular among Amazon sellers. This tool is capable of outlining real-time sales data, Amazon keyword research, including revenue, product rank, and more.
The convenient extension interface makes it quick and easy to find the data that you are looking for. This Amazon chrome extension is currently compatible with Amazon's marketplaces in eight different countries, including the United States of America and Canada.
2. Helium 10 X-Ray Chrome Extension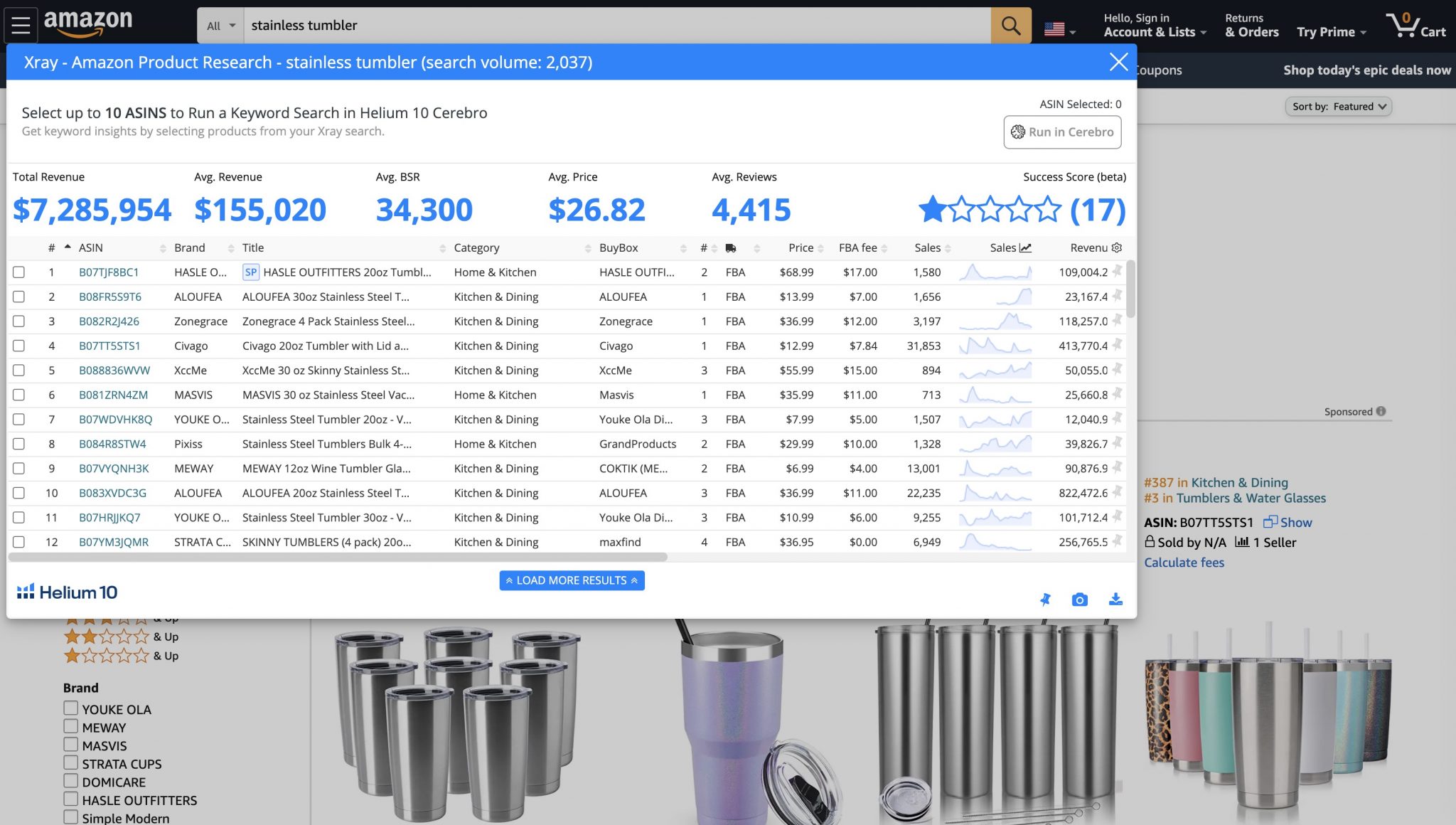 Helium 10 X-Ray is an Amazon product research utility that allows users to gain access to several imperative tools that can benefit you as an Amazon seller.
The primary feature that many sellers are excited about is the Profitability Calculator. This utility is extremely useful for determining pricing margins and extracting fees and costs from varying products.
This utility also allows Helium 10 users to download product ratings from the customer reviews section of the product page using the amazon review checker.
Inventory levels can also be traced through this utility. Thousands of Amazon sellers have already benefited from this particular plugin and it could be a great opportunity for you to jump in on the action. Making it one the most comprehensive Amazon Chrome Extension on the market.
3. AMZ Scout Pro – Amazon Chrome Extension
AMZ Scout Pro is particularly useful for finding trends and profitable products to sell. There is also a profit-calculation tool that could be useful when trying to determine if a product can be sold profitably.
This chrome extension can be downloaded for free and the AMZ Scout Pro version comes with a free trial that new customers can try out.
If you are looking for in-depth Amazon analytical data, you will likely be interested in the Viral Launch Market Intelligence chrome extension.
This market intelligence tool is specifically designed to find profitable items that currently exist on the Amazon platform. Users can also view pricing history, past sales, revenue data, and several other attributes that might come in handy.
Revseller is a popular chrome extension for an Amazon seller. Open it within Amazon product pages to give you all the data needed to make quick decisions on a potential next product idea.
It's has a built in Amazon FBA calculator to break down price, shipping costs, referral fees and give you your ROI and profit margin for your FBA business.
6. SellerApp Web App
The SellerApp plugin part of the all in one software can help find the best product ideas with a quick overview of price history, monthly sales, opportunity score (listing quality or LSI).
Not only that you can find the best keyword suggestions that are bringing in the sales for the Amazon products. Other features like alerts on pricing changes or a profit calculator to understand the potential.
The detailed information contain in this plugin is well worth the money for any serious FBA sellers looking to take it to the next level.
Keepa provides pricing information about products that are currently listed on the Amazon marketplace. In-Depth price history that tracks for every single product can be found within this browser extension for Google Chrome.
This tool also has features for daily-deals and price drops. No account is required to use the Keepa extension. You can simply download it and begin using it on the Amazon platform immediately.
The Source now chrome extension is useful for finding similar products on Amazon sold on Alibaba. By selecting one of your preferred items, you will immediately gain access to several Alibaba wholesale listings that are extremely similar.
Products can be matched based on Amazon keyword research, images, and other similar attributes as well.
The FBA Calculator for Amazon claims to be one of the best free tools for Amazon sellers that are currently profiting with six figures.
This profitability tool might be enough to convince you to give it a download. Accurate product information is always available with this free Chrome extension.
Keyword ranking tools are always in demand from Amazon sellers. This Amazon KW Index and Rank Checker tool is perfect for establishing keyword rankings and gaining access to monthly search volume.
You can also find the best keywords based on filters like Relevancy, Search Volume, and Ranking.
Product research on Amazon can be extremely time-consuming without the right tools on your side.
The AMZ Seller chrome extension is specifically designed to help Amazon sellers research new products that are profitable for them to sell. Keyword ranking and price history attributes are also available with this extension.
This free google chrome extension was built by Amztracker to enhance real-time product research on the Amazon marketplace.
Unicorn Smasher provides users with realtime revenue data and sales estimates. This information is available in real-time for thousands of popular Amazon products that are currently listed on the market.
By hovering of the product images, you can immediately gain access to tons of additional product information, including Amazon Ranking Data and Seller Information.
This DS Amazon Quick View productivity tool is a great addition for many users and there is even a premium version chrome extension with additional features.
The Camelizer is a pricing tool that provides Amazon users with the previous pricing history for any product as well as updated sales attributes.
FAQ – Amazon Seller Chrome extensions
Does Amazon have a Chrome extension?
Yes Amazon does have a chrome extension, Amazon Assistant for Chrome is the official Amazon web extension.
Why Amazon sellers should use chrome extension for their business?
Amazon sellers should us chrome extensions to increase sales and to compete with the other Amazon sellers.
Summary – Top Amazon Extension Picks (Jungle Scout and Helium 10 X-Ray)
Hope you enjoyed our roundup of the best Amazon chrome extensions available for FBA sellers. The Jungle Scout and Helium 10 X-Ray chrome extensions are extremely popular Amazon chrome extensions that provide outstanding FBA keyword research and product research data.
These popular seller tools are already being used by thousands of users and there is a great opportunity for you to start taking advantage of their advanced features as well.
By visiting the Chrome web store, you can download either of these plugins to immediately gain access to several additional browser features that you otherwise would not have access to.
Quick Links: