Amazon has over a million employees around the world, working tirelessly to help its numerous sellers fulfill orders around the globe.With a growing list of Amazon fulfillment center locations in the United States and around the world, the company's FBA has only gotten more efficient.
Now, it's even easier to find an ideal location for fulfillment and to get your products into the hands of customers even more quickly.
How many Amazon Fulfillment Centers are there?
Amazon operates over 185 fulfillment centers around the world. These are spread out across North America, Europe, Asia, and other continents, giving them a presence in many major global markets. Specifically, they have facilities in over 16 countries, including the United States, Canada, Mexico, United Kingdom, Germany, France, Italy, Spain, Japan, China, and India, to name a few.
Projections for future locations are not always readily available, as Amazon's expansion plans are typically kept private until officially announced. However, the company's continuous growth and commitment to offering prime shipping and other rapid delivery options suggest they will continue to open new fulfillment centers in strategic locations.
How does Amazon select potential fulfillment center locations?
Amazon's approach to selecting fulfillment center locations is strategic and based on several factors:
Population Density: Amazon typically places fulfillment centers near heavily populated areas to ensure quick delivery to a large number of customers.
Proximity to Suppliers: Being closer to manufacturers and suppliers can reduce transportation costs and times.
Transportation Networks: A good road, rail, and sometimes port infrastructure is crucial for quick transportation of goods.
Economic Incentives: Sometimes local governments offer tax breaks or other incentives to attract Amazon's investment in their community.
How does Amazon assign me a fulfillment center?
When you become a seller on Amazon and decide to use their Fulfilled by Amazon (FBA) service, Amazon determines which fulfillment center your inventory should go to based on several factors:
Product Category: Certain centers might specialize in particular categories, like apparel or electronics.
Storage Space: If a particular fulfillment center is nearing its storage capacity, Amazon might direct your inventory to another location.
Proximity to Warehouse: Often, Amazon will try to store your inventory in a warehouse that's closer to your business location to reduce shipping times and costs for inbound inventory.
What do the Amazon center's codes mean? Each Amazon fulfillment center is assigned a unique code. This code is often linked to the nearest major airport. For example, an Amazon fulfillment center located near the Dallas Fort Worth International Airport might have the code DFW1. Using these codes, sellers can quickly identify where their inventory is located, and it also helps Amazon manage logistics efficiently.
What are the various types of Amazon fulfillment centers and warehouses?
Fulfillment Centers: These are the heart of Amazon's network. Here, products are received, stored, picked, packed, and shipped to the end customer.
Specialty Centers: These facilities focus on handling specific categories of items, like apparel, oversized items, or hazardous materials.
Sortation Centers: After items are picked and packed at a fulfillment center, they might be sent to a sortation center. Here, packages are sorted and consolidated for delivery to specific regions.
Receiving Centers: These facilities primarily handle inventory intake. Sellers send their products here, and after intake, they are then sent to the appropriate fulfillment center.
List of Amazon Fulfillment Center Locations in the United States
#PHX5 – 16920 W. Commerce Dr, Goodyear, AZ, 85338
#AZA5 – 6000 W Van Buren St, Phoenix, AZ 85043
​#PHX3 – 6835 W. Buckeye Rd, Phoenix, AZ, 85043
#PHX6 – 4750 W. Mohave St, Phoenix, AZ, 85043
#PHX7 & PHX8 – 800 N. 75th Ave, Phoenix, AZ, 85043
#SAZ1 – 3333 S 7th St, Phoenix, AZ 85040-1182
#TFC1 – 5050 W. Mohave St, Phoenix, AZ 85043
#TUS1 – 533 W Lower Buckeye Rd, Phoenix, Arizona, 85043
#UAZ1 – 500 S 48th St, Phoenix, AZ 85034
#PHX9 – 777 S 79th Ave, Tolleson, Arizona, 85353
#TUS2 – 6701 S. Kolb Rd, Tucson, AZ 85756
#GYR1 – 580 South 143rd Avenue, Goodyear, AZ 85338
#GYR3 – 8181 W Roosevelt St., Phoenix, AZ 85043
#PHX8 – 800 N. 75th Ave Phoenix, AZ, 85043
#VAZ1 – 3333 S 7th St., Phoenix, AZ 85040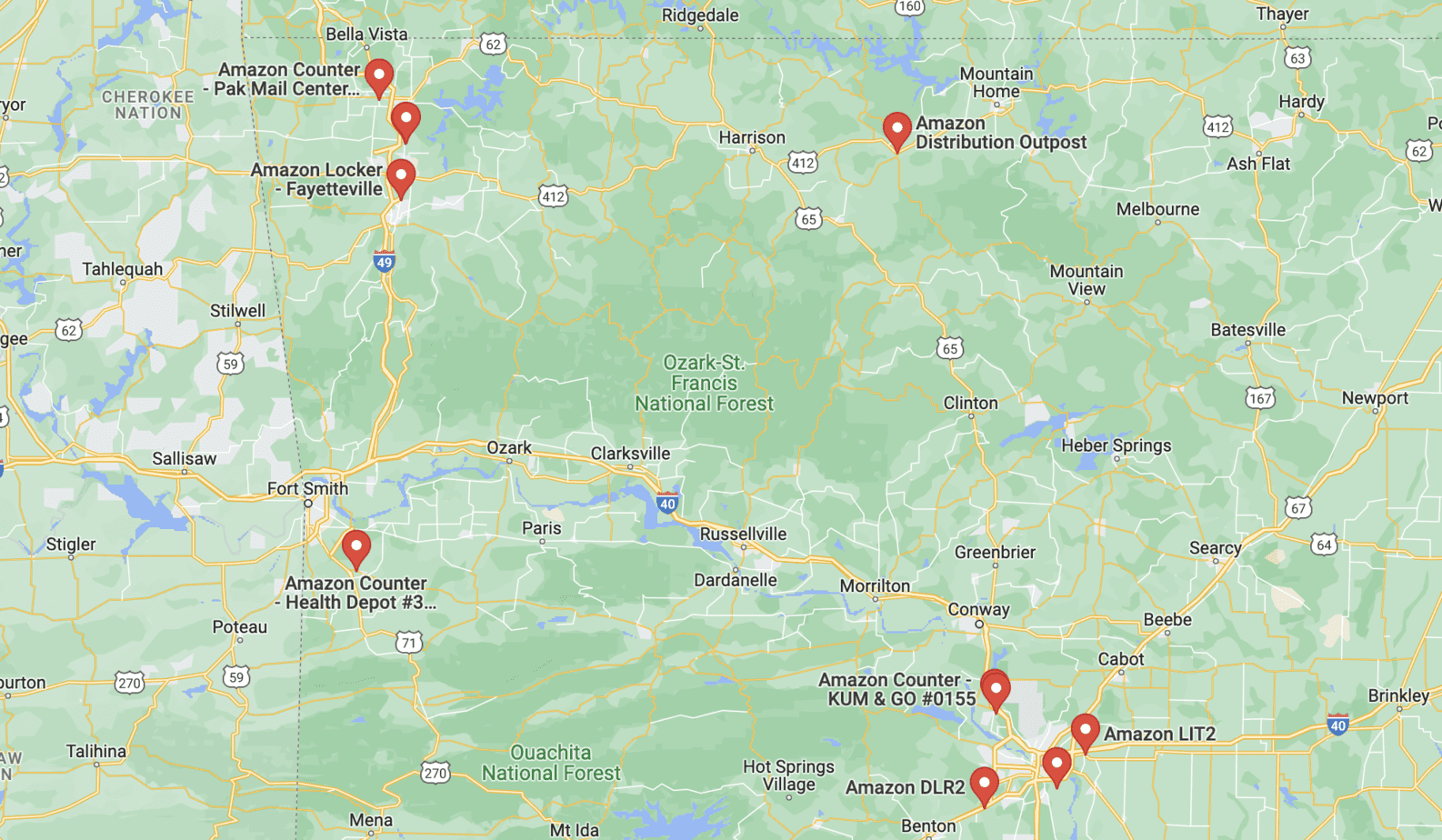 #DLR1 – 1920 N Locust St, North Little Rock, AR 72114
#LIT1 – 7001 Zeuber Rd, Little Rock, AR 72206
#LIT2 – 13001 US-70, North Little Rock, AR 72117
#BFL1 – 1601 Petrol Rd, Bakersfield, CA 93308
#PSP1 – 1010 West Fourth St, Beaumont, CA 92223
#DCA2 – 5250 Goodman Rd, Eastvale, CA 91752
#LGB3 – 4590 Goodman Way, Building 1, Eastvale, CA 91752
#SNA6/SNA9/DCA2 – 5250 Goodman Rd, Eastvale, CA 92880
#LAX9 – 11263 Oleander Ave, Building 1, Fontana, CA 92337
#FAT1 – 3575 S Orange Ave, Fresno, CA 93725
#LGB1 – 2417 E. Carson St, Long Beach, CA 90810
#SCK3 – 3565 N Airport Way, Manteca, CA 95336
#ONT6/HLA3 – 24208 San Michele Rd, Moreno Valley, CA 92551
#LGB4 – 27517 Pioneer Ave, Redlands, CA 92374
#ONT9 – 2125 W. San Bernardino Ave, Redlands, CA 92374
#LGB6 – 20901 Krameria Ave, Riverside, CA 92518
#LGB7 – 1660 N. Locust Ave, Rialto, CA 92376
#SNA4 – 2496 W Walnut St, Rialto, CA 92376-3009
#OAK3 – 255 Park Center Dr, Patterson, CA 95363
#LGB9 – 4375 N Perris Blvd, Perris, CA 92571
#SMF1 – 4900 W Elkhorn Blvd, Metro Air Park, Sacramento, CA 95835
#ONT2/3/4/7 – 1910 & 2020 E Central Ave. San Bernardino, CA 92408
#PCA2 – 1650 East Central Ave, San Bernardino, CA 92408
#SNA7/SNA8/LGB5/KRB1 – 555 East Orange Show Rd, San Bernardino, CA 92408
#SCK1 – 4611 Newcastle Rd, Stockton, CA 95215
#SMF3 – 4723 S B St, Stockton, CA 95215
#XUSD – 1909 Zephyr St, Stockton, CA 95206
#DPS3 – 2405 Conejo Spectrum St, Thousand Oaks, CA 91320
#OAK4/OAK6 – 1555 N. Chrisman Rd, Tracy, CA 95304
#PCA1 – 1565 N MacArthur Dr, Tracy, CA 95376
#SJC7 – 188 Mountain House Pkwy, Tracy, CA 95391
#DDV5 2889 Himalaya Dr, Aurora, CO 80011
#DEN2 – 24006 E. 19th Ave, Aurora, CO 80019
#DEN5 – 19799 E 36th Dr, Aurora, CO 80011
#DCS3 – 4303 Grinnell Blvd, Colorado Springs, CO 80925
#DEN3 – 14601 Grant St, Thornton, CO 80023
#BDL1 – 801 Day Hill Road Windsor, CT 06095
#BDL3 – 415 Washington Ave, Building 3, North Haven, CT 06473
#BDL2 – 200 Old Iron Ore Rd, Windsor, CT 06095
#BDL4 – 1221 Kennedy Rd, Windsor, CT 06095
#BDL5 – 29 Research Parkway, Wallingford, CT 06492
#PHL7/PHL9 – 560 Merrimac Ave, Middletown, DE 19709
#PHL8 – 727 N. Broad St, Middletown, DE 19709
#PHL1 – 1 Centerpoint Blvd, New Castle, DE 19720
#PHL3 – 1600 Johnson Way, New Castle, DE 19720
#MCO5 – 305 Deen Still Rd, Davenport, FL 33897
#MCO9 – 2841 Access Rd, Davenport, FL 33897
#JAX2 – 12900 Pecan Park Rd, Jacksonville, FL 32218
#JAX3 – 13333 103rd St, Cecil Commerce Center, Jacksonville, FL 32221
#JAX5 – 4948 Bulls Bay Hwy, Jacksonville, FL 32219
#TPA2/#LAL1 – 1760 County Line Rd, Lakeland, FL, 33811
#MIA1– 14000 NW 37th Ave, Opa Locka, FL 33054
#MCO1– 12340 Boggy Creek Rd, Orlando, FL 32824
#UFL4/SFL1 – 7469 Kingspointe Pkwy, Orlando, FL 32819
#TPA1 – 3350 Laurel Ridge Ave, Ruskin, FL 33570
#PGA1 – 6200 Fulton Industrial Blvd, Atlanta, GA 30336
#MGE1/MGE7 – 650 Broadway Ave, Braselton, GA 30517
#ATL6 – 4200 N Commerce Dr, East Point, GA 30344
#MGE3 – 808 Hog Mountain Rd, Building F, Jefferson, GA, 30549
#ATL8 – 2201 Thornton Rd, Lithia Springs, GA 30122
#SAV3 – 7001 Skipper Rd, Macon, GA 31216
#ATL2 – 2255 W Park Blvd, Stone Mountain, GA 30087
#ATL7 – 6855 Shannon Pkwy S, Union City, GA 30291
#MDW9 – 2865 Duke Pkwy, Aurora, IL 60502
#ORD2 – 23714 W Amoco Rd, Channahon, IL 60410
#ORD9 – 23700 W Bluff Rd Bldg A, Channahon, IL 60410
#MDW5 – 16825 Churnovic Ln, Crest Hill, IL 60435
#STL4– 3050 Gateway Commerce Center Dr S, Edwardsville, IL
#STL6/STL7/HLU1– 3931 Lakeview Corporate Dr, Edwardsville, IL 62025
#MDW4 – 250 or 201 Emerald Dr, Joliet, IL 60433
#PIL1 – 801 Midpoint Rd, Minooka, Illinois 60047
#MDW7 – 6605 or 6521 W Monee Manhattan Rd, Monee, IL 60449
#MDW6 – 1125 W Remington Blvd, Romeoville, IL 60446
#DIL7 – 3601 Howard St, Skokie, IL 60076
#MDW8 – 1750 Bridge Dr, Waukegan, IL 60085
#MDW8 – 1750 Bridge Dr, Waukegan, IL 60085
#HMW1 – 30260 Graaskamp Blvd, Wilmington, IL 60481
#IND9 – 2140 Stacie's Way, Greenwood, IN 46143
#IND4/IND8 – 710 South Girls School Rd, Indianapolis, IN 46214
#IND7 – 9101 Orly Dr, Indianapolis, IN 46241
#PIN1 – 6161 Decatur Blvd, Indianapolis, IN 46241
#DIN1 – 5850 W 80th St, Indianapolis, IN 46278
#SDF8 – 900 Patrol Rd, Jeffersonville, IN 47130
#IND2/#IND3 – 715 Airtech Pkwy, Plainfield, IN 46168
#IND5 – 800 S Perry Rd Plainfield, IN 46168
#DIN3 – #200, 5545 Chet Waggoner Ct, South Bend, IN 46628
#XUSE – 5100 S Indianapolis Rd, Whitestown, IN 46075
#IND1 – 4255 Anson Blvd, Whitestown, IN 46075
Iowa
#DSM5 – 500 SW 32nd St, Bondurant, IN 50009
Kansas
#MKC4 – 19645 Waverly Rd, Edgerton, KS 66021
#MKC6 – 6925 Riverview Ave., Kansas City, KS 66102
#MCI5 – 16851 W 113th St, Lenexa, KS 66219
#SDF1 – 1105 S Columbia Ave, Campbellsville, KY 42718
#IVSA – 4620 Olympic Blvd, Erlanger, KY 41018
#CVG8 – 7968 Kentucky Dr, Suites 2-3, Florence, KY 41042
#CVG1 – 1155 Worldwide Blvd, Hebron, KY 41048
#CVG2 – 1600 Worldwide Blvd, Hebron, KY 41048
#CVG3 – 3680 Langley Dr, Hebron, KY 41048
#IVSB/#HCN1 – LogistiCenter 275 #2, 3521 Point Pleasant Rd, Hebron, KY 41048
#LEX1/LEX3 – 1850 Mercer Rd, Lexington, KY 40511
#LEX2 – 172 Trade St, Lexington, Kentucky, 40511
#SDF2 – 4360 Robards Ln, Louisville, KY 40218
#SDF4 – 376 Zappos.com Blvd, Shepherdsville, KY 40165
#SDF6 – 271 Omega Pkwy, Shepherdsville, KY 40165
#SDF7 – 300 Omicron Ct, Shepherdsville, KY 40165
#SDF9 – 100 W. Thomas P. Echols Lane, Shepherdsville, KY 40165
Maryland
#HBA1 – 1100 Woodley Rd, Aberdeen, MD 21001
#BWI2 – 2010 Broening Hwy, Baltimore, MD 21224
#HSE1 – 13905 Crayton Blvd, Hagerstown, MD 21742
#MDT2 – 600 Principio Pkwy West, North East, MD 21901
#DCA1 – 1700 Sparrows Point Blvd, Sparrows Point, MD 21219
Massachusetts
#DBO2 – 500 Sprague St, Dedham, MA 02026
#BOS7 – 1180 Innovation Way, Fall River, MA 02722
#BOS5 – 1000 Technology Center Dr, Stoughton, MA 02072
Michigan
#DTW5 – 19991 Brownstown Center Dr, Brownstown Charter Township, MI 48183
#GRR1 – 4500 68th St. SE, Caledonia, MI 49316
#DET1 – 39000 Amrhein Rd, Livonia, MI 48150
#DTW1 – 32801 Ecorse Rd, Romulus, MI 48174
#DET2 – 50500 Mound Rd, Shelby Township, MI 48317
Minnesota
#MSP9 – 9001 Wyoming Ave N, Brooklyn Park, MN 55445
#MSP1 – 2601 4th Ave E, Shakopee, MN 55379
Mississippi
#MEM2 – 191 Norfolk Southern Way, Chickasaw Trail Industrial Park, Byhalia, MS 38611
#MEM6 – 11505 Progress Way, Olive Branch, MS 38654
Missouri
#DLI1 – Hazelwood, MO 63042
#STL8 – 4000 Premier Pkwy, St. Peters, MO 63376
Nevada
#LAS1 – 12300 Bermuda Rd, Henderson, NV 89044
#LAS2 – 3837 Bay Lake Trail Suite 115, North Las Vegas, NV 89030
#LAS6 – 4550 Nexus Way, North Las Vegas, NV 89115
#LAS7 – 6001 E. Tropical Pkwy, North Las Vegas, NV 89115
#RNO4 – 8000 N Virginia St, Reno, NV 89506
#RNO3 – 555 Milan Dr, Sparks, NV 89434
New Hampshire
#BOS1 – 10 State St Nashua, NH 03063
New Jersey
#EWR6/EWR7 – 275 Omar Ave, Avenel, NJ 07001
#ACY2 – 1101 E. Pearl St, Burlington, NJ 08016
#EWR9 & #LGA6 – 8003 Industrial Ave. Carteret, NJ 07008
#LGA7 – 380 Middlesex Ave, Carteret, NJ 07008
#TEB6 – 22 Hightstown-Cranbury Station Rd, Cranbury, NJ 08512
#LGA9 – 2170 State Route 27, Edison, NJ 08817
#TEB3 – 2651 Oldmans Creek Rd, Logan Township, NJ 08085
#EWR1 – 50 New Canton Way Robbinsville, NJ 08691
#EWR4 – 50 New Canton Way, Robbinsville, NJ 08691
#EWR8 – 698 Route 46 West, Teterboro, NJ 07608
#ACY1 – 240 Mantua Grove Rd, West Deptford, NJ 08066
New York
#BUF5– 4201 Walden Ave, Lancaster, NY 14086
#SYR1 – 7211 Morgan Rd, Liverpool, NY 13090
#JFK8/DYY6 – 546 Gulf Ave, Staten Island, NY 10314
North Carolina
#CLT4 – 8000 Tuckaseegee Rd, Charlotte, NC 28214
#CLT9 – 3620 Reeves Ridge Dr, Charlotte, NC 28214
#CLT3 – 6500 Davidson Hwy 2532, Concord, NC 28027
#CTL5 – 1745 Derita Rd, Concord, NC 28027
#RDU5 – 1805 TW Alexander Dr, Durham, NC 27703
#RDU1 – 4851 Jones Sausage Rd, Garner, NC 27529
#GSO1 – 1656 Snow Bridge Ln, Kernersville, NC 27284
Ohio
#AKC1 – 2450 Romig Rd, Akron, OH 44320
#CMH1 – 11903 National Rd SW, Etna, OH 43062
#CLE3 – 1155 Babbitt Rd, Euclid, OH 44132
#CMH6/HCM1 – 3538 TradePort Ct, Building 2, Lockbourne, OH 43137
#CMH3 – 700 Gateway Blvd, Monroe, OH 45050
#CLE2 – 21500 Emery Rd, North Randall, OH 44128
#CMH2 – 6050 Gateway Ct, Obetz, OH 43125
#POH1 – 3880 Groveport Rd, Obetz, OH 43207
#CLE5 – 8685 Independence Pkwy, Twinsburg, OH 44087
#CMH4 – 1550 W Main St, West Jefferson, OH 43162
Oklahoma
#OKC1 – 9201 S. Portland Ave, Oklahoma City, OK 73159
#DOK1 – 4401C E Hefner Rd, Oklahoma City, OK 73131
#OKC5 – 1414 S Council Rd, Oklahoma City, OK 73179
#TUL2 – 11920 E 43rd St N, Tulsa, OK 74116
Oregon
#PDX5 – 5647 NE Huffman St, Hillsboro, OR 97124
#PDX6/HPD1 – 15000 N Lombard St, Multnomah, Portland, OR 97203
#PDX7 – 4775 Depot Ct SE, Salem, OR 97317
#PDX9 – 1250 NW Swigert Way, Troutdale, OR 97060
Pennsylvania
#ABE1/ABE2 – 705 Boulder Dr, Breinigsville, PA 18031
#ABE3 – 650 Boulder Dr, Breinigsville, PA 18031
#MDT1 – 2 Ames Dr, Carlisle, PA 17015
#PHL4 – 21 Roadway Dr, Carlisle, PA 17015
#PHL6 – 675 Allen Rd, Carlisle, PA 17015
#XUSC – 40 Logistics Dr, Carlisle, PA 17013
#ABE4 – 1610 Van Buren Rd, Easton, PA 18045
#AVP2/AVP3 – 298 1st Ave, Gouldsboro, PA 18424
#ABE5 – 6455 Allentown Blvd, Harrisburg, PA 17112
#AVP1 – 550 Oak Ridge Rd, Hazleton, PA 18202
#PIT2 – 1200 Westport Rd, Imperial, PA 15126
#PHL5 – 500 McCarthy Dr, Lewisberry, PA 17339
#PPA1 – 545 Oak Hill Rd, Mountaintop, PA 18707
#PIT5 – 2250 Roswell Dr, Pittsburgh, PA 15205
#AVP6 – 1 Commerce Rd, Pittston, PA 18640
#AVP8 – 250 Enterprise Way, Pittston, PA 18640
#DPP1 – 501 North Dr, Sewickley, PA 15143
South Carolina
#GSP1 – 402 John Dodd Rd, Spartanburg, SC 29303
#CAE1 – 4400 12th St Extension, West Columbia, SC 29172
Tennessee
#CHA1 – 7200 Discovery Dr Chattanooga, TN 37421 – Hamilton County
#CHA2 – 225 Infinity Dr NW, Charleston, TN 37310 – Bradley County
#BNA1 – 14840 Central Pike, Lebanon, TN 37090 – Wilson County
#BNA2 – 500 Duke Dr, Lebanon, TN 37090 – Wilson County
#MEM5 – 5155 Citation Dr, Memphis, TN 38118
#BNA3 – 2020 Joe B Jackson Pkwy, Murfreesboro, TN 37127
#BNA5 – 50 Airways Blvd, Nashville, TN 37217
#STN1 – 10 Dell Pkwy, Nashville, TN 37217
#DNA1 – 2813 Brick Church Pike, Nashville, TN 37207
Texas
#STX2 – 1625 Hutton Dr, Carrollton, TX 75006
#DFW6 – 940 W Bethel Rd Coppell, TX 75019
#FTW2/HDA1 – 2701 W Bethel Rd, Coppell, TX
#FTW6 – 2601 W Bethel Rd, Grapevine (Coppell), TX 75261
#FTW7/FTW9 – 944 W. Sandy Lake Rd, Coppell, TX 75019
#DDA8 – 8901 Forney Rd, Dallas, TX 75227
#DFW1 & DFW8 – 2700 Regent Blvd, Dallas, TX 75261
#DAL3 – 1301 Chalk Hill Rd, Dallas, TX 75211
#FTW8 – 3351 Balmorhea Dr. Dallas, TX 75241
#IAH1 – 9155 Southlink Dr, Dallas, TX 75241
#DFW7 – 700 Westport Pkwy, Fort Worth, TX 76177
#FTW3/FTW4 – 15201 Heritage Pkwy, Fort Worth, TX 76177
#XUSB – 14900 Frye Rd, Fort Worth, TX 76155
#DDA2 – 3838 W Miller Rd, Garland, TX 75041
#HOU2 – 10550 Ella St, Houston, TX 77038
#DAL2 – 2601 S Airfield Dr, Irving, TX 75038
#HOU3 – 31819 Highway Blvd, Katy, TX 77493
#PTX1 – 2101 Danieldale Rd, Lancaster, TX 75134
#SAT2 – 1401 E McCarty Ln, San Marcos, TX 78666
#SAT1 – 6000 Enterprise Ave, Schertz, TX 78154
#DAL9 – 1400 Southport Pkwy, Wilmer, TX 75172
Utah
#SLC1 – 777 N 5600 W, Salt Lake City, UT 8411
#SLC2 – 6802 W Old Bingham Hwy, West Jordan, UT 84081
#SLC3/HSL1 – 355 N John Glenn Rd, Salt Lake City, UT 84116
#SLC4 – 770 South Gladiola, Suite 500, Salt Lake City, UT 84104
Virginia
#RIC5 – 11600 N Lakeridge Pkwy, Ashland, VA 23005
#RIC2 – 1901 Meadowville Technology Pkwy Chester, VA 23836
#BWI4 – 165 Business Blvd, Clear Brook, VA 22624
#RIC1 – 5000 Commerce Way, Petersburg, VA 23803
#KRB2 – 7000 Hardware Dr, Prince George, VA 23875
#RIC3/#HRC1 – 4949 Commerce Rd, Richmond, VA 23234
#HDC1 – 6885 Commercial Dr, Springfield, VA 22151
#BWI1 – 45121 Global Plaza, Sterling, VA 20166
#DDC4 – 44301 Mercure Cir, Sterling, VA 20166
Washington
#DSE4 – 6611 Associated Blvd, Everett, WA 98203
#BFI3 – 2700 Center Dr, Dupont, WA 98327
#BFI4 – 21005 64th St, Kent, WA 98032
#BFI5 – 20526 59th Pl S, Kent, WA 98032
#BFI6 – 20202 84th Ave S, Kent, WA 98032
#SEA6/#SEA8 – 1227 124th Ave, Northeast Bellevue, WA, 98005
#PWA1 – 2309 Milwaukee Way, Tacoma, WA 98421
#BFI8 – 20529 24th Ave S, SeaTac, WA 98198
#GEG1 – 10010 W Geiger Blvd, Spokane, WA 99224
#BFI1 – 1800 140th Ave E, Sumner, WA 98390
#DES7 – Sumner, WA 98390
#BFI7 – 1901 140th Ave E, Sumner, WA 98390
Wisconsin
#MKE1 – 3501 120th Ave. Kenosha, WI, 53144
#DML1 – 3935 W Mitchell St, Milwaukee, WI 53215
#MKE2 – 9700 South 13th St, Oak Creek, Wisconsin 53154 – Milwaukee County
Amazon Fulfillment Center Locations in Canada
#YVR2 – 450 Derwent Pl, Delta, British Columbia V3M 5Y9
#YVR4 – 4189 Salish Sea Way, Tsawwassen (Delta), British Columbia V4M 0B9
#YVR2 – 450 Derwent Pl, Delta, British Columbia V3M 5Y9
#YYZ1 – 6363 Millcreek Drive, Mississauga, Ontario L5N 1L8
#YYZ2 – 2750 Peddie Rd, Milton, Ontario L9T 6Y9
#YYZ3 – 7995 Winston Churchill Blvd, Brampton, Ontario L6Y 0B2
#YYZ4/#YYZ6 – 8050 Heritage Rd, Brampton, Ontario L6Y 0C9
#YYZ7 – 12724 Coleraine Dr, Caledon (Bolton), Ontario L7E 4L8
#PRTO – 6110 Cantay Rd, Mississauga, Ontario L5R 3W
#YOW1 – 5225 Boundary Road, Ottawa, Ontario, K4N 1P6
#YYZ9 – 900 Passmore Ave, Scarborough, ON M1X 0A1
#YUL2 – 3000 Rue Louis A Amos, Lachine, QC H8T 3P8
Amazon Fulfillment Center Locations in the UK
#LTN1 – Marston Gate Fulfillment Centre, MK43 0ZA Ridgmont, Bedfordshire, UK
#XUKK – Kuehne & Nagel, Merlin Park II, Wood Lane, B249QJ Birmingham, UK
#XUKA – Aston Lane North, Whitehouse Industrial Estate, WA7 3BN Runcorn, Cheshire, UK
#BHX2 – Robson Way, LE67 1GQ Ellistown, Coalville, UK
#XUKD – Unit A Daventry Distribution Centre, Royal Oak Way North, NN11 8LR Daventry, UK
#LBA1 – Unit 1, Balby Carr Bank, DN4 5JS Balby, Doncaster, UK
#LBA3 – Unit 3, Water Vole Way, DN4 5JP Balby, Doncaster, UK
#LBA2 – Unit 1, Iport Avenue, DN11 0BG New Rossington, Doncaster, UK
#EDI4 – Amazon Way, KY11 8XT Dunfermline, UK
#LTN4 – Unit DC1 (Prologis) Boscombe Road, LU5 4FE Dunstable, UK
#LTN2 – Boundary Way, HP2 7LF Hemel Hempstead, Hertfordshire, UK
#GLA1 – 2 Cloch Road, Faulds Park, PA19 1BQ Gourock, Inverclyde, UK
#LCY1 – Unit B Prologis Park, Twelvetrees Crescent, E3 3JG London, UK
#MAN1 – 6 Sunbank Lane, Airport City, M90 5AA Altrincham, Manchester, UK
#BHX3 – Amazon UK Services Ltd, Royal Oak Way North, NN118QL Daventry, Northamptonshire, UK
#EUK5 – Goods In, Phase Two, Kingston Park, Flaxley Road, PE2 9EN Peterborough, UK
#BHX1 – Towers Business Park, Power Station Road, WS15 1NZ Rugeley, Staffordshire, UK
#CWL1 – Ffordd Amazon, SA1 8QX, Crymlyn Burrows, Swansea, UK
#LCY2 – Amazon Distribution Depot, Unit 2, London Distribution Park, Windrush Road, RM18 7AN Tilbury, UK
#MAN2 – Omega Plot 7c, Orion Boulevard, WA5 3XA Great Sankey, Warrington, UK
#XUKC – Yusen Logistics UK Vendorflex, Rutherford Drive, Park Farm South, NN8 6AQ Wellingborough, UK
#BHX4 – Plot 1, Lyons Park, Coundon Wedge Drive, CV5 9FA Coventry, UK
Amazon Fulfillment Center Locations in Europe
Czech Republic
#PRG1 – Amazon Logistic Prague s.r.o, U Trati 216, 25261 Dobrovíz, CZ
#PRG2 – K Amazonu 245, 25261 Dobrovíz, CZ
France
#XFRE – 91-135 Rue du Brisson, 38290 Satolas-et-Bonce, Auvergne-Rhône-Alpes
#LYS1 – Distripôle Chalon, ZAC du Parc d'Activité du Val de Bourgogne,2 Tue Amazon Sevrey, 71100 Saône-et-Loire, Burgundy
#XFRG – ZAC Moulin, 101 Le Chemin de Poupry, 45410 Artenay, Centre-Val de Loire
#MRS1 – Building 2, Rue Joseph Garde, ZAC, Les Portes de Provence, 26200 Montélimar, Drôme
#BVA1 – 7 Rue des Indes Noirs, 80440 Boves, Somme, Hauts-de-france
#XFRF – Avenue Louis Renault, ZAC du Val Bréon, Bâtiment 3, 77610 Châtres, Île-de-France
#XFRH – 900 Rue Denis Papin, 77550 Moissy-Cramayel, Île-de-France
#ORY1 – Pôle 45, 1401 Rue du Champ Rouge, 45770 Saran, Loiret
#LIL1 – Parc logistique de Lauwin-Planque 1, Rue Amazon Douai, 59553 Lauwin-Planque, Norde-Pas-de-Calais
Germany
#FRA1 – Amazon Logistik GmbH, Am Schloß Eichhof 1, 36251 Bad Hersfeld
#FRA3 – Amazon Logistik GmbH, Amazonstraße 1 / Obere Kühnbach, 36251 Bad Hersfeld
#BER6 – Amazon Logistik AF München GmbH, Am Borsigturm 100, 13507 Berlin
#BER3 – Amazon Brieselang GmbH, Havellandstr. 5, 14656 Brieselang
#DTM2 – Amazon Logistik Dortmund GmbH, Kaltband Straße 4, 44145 Dortmund
#XDEU – DHL Solutions GmbH, Barentsstrasse 24, 53881 Euskirchen
#MUC3 – Amazon Distribution GmbH, Amazonstrasse 1 Zeppelinstrasse 2, 86836 Graben
#CGN1 – Amazon Koblenz GmbH, Amazonstrasse 1 / Industriepark A61, 56330 Kobern-Gondorf
#LEJ1 – Amazon Distribution GmbH, Amazonstrasse1, 04347 Leipzig
#LEJ2 – Amazon Distribution GmbH, Imaging Operations, Friedrichshafner Straße 72a, 04357 Leipzig
#XDES – Hermes Fulfilment GmbH Standort Löhne, Schillenbrink 6, 32584 Löhne
#XDET – Geodis Malsfeld NS 3PL, Bornwise 1, 34323 Mansfeld
#XDEB – DHL Logistik-Center Ludwigsau, Im Fuldatal 2, 36251 Ludwigsau OT Mecklar
#XDEI – Geodis Logistics Deutschland GmbH Niederlassung Hamburg, Bei der Lehmkuhle 2, 21629 Neu Wulmstorf-Mienenbüttel
#STR1 – Amazon Pforzheim GmbH, Amazonstraße 1 (A8 Exit 44 Pforzheim Nord direction Bretten), 75177 Pforzheim
#XDEH – Kühne + Nagel (AG & Co.) KG Betriebsstätte Rennerod, Industriegebiet Alsberg, 56477 Rennerod
#DUS2 – Amazon Fulfillment GmbH, Amazonstraße 1 / Alte Landstrasse, 47495 Rheinberg
#XDEJ – Baur Versand GmbH & Co KG, Siegfried-Lapawa-Straße 1, 96242 Sonnefeld
#EDE4 – Amazon Logistik Werne GmbH, Wahrbrink 25, 59368 Werne
#EDE5 – Amazon Logistik Werne GmbH, Wahrbrink 23, 59368 Werne
#DTM1 – Amazon Logistik Werne GmbH, Carl-Zeiss-Straße 3, 59368 Werne
#HAM2 – Amazon Logistik Winsen GmbH, Borgwardstraße 10, 21423 Winsen an der Luhe
Italy
#XITD – Amazon XITD – Geodis Logistics, Viale Maestri del Lavoro 990, 45031 Arquà Polesine
#MXP5 – Amazon EU Sarl c/o Amazon Italia Logistica Srl, Strada Dogana Po 2U, 29015 Castel San Giovanni
#XITC – Amazon XITC – Geodis Logistics SpA, Via Aldo Moro, 4, 20080 Francolino di Carpiano
#FCO1 – Amazon Italia Logistica S.R.L., Via della Meccanica, 4, 02032 Passo Corese
#TRN1 – Amazon Italia Logistica S.R.L., Strada Provinciale per Rondissone 90, 10037 Torrazza Piemonte, Italy
MXP3 – Amazon Italia Logistica S.R.L., Via Rita Levi Montalcini, 2, 13100 Vercelli
Poland
#KTW3 – Amazon Fulfillment, ul. Bojkowska 80, 44-141 Gliwice
#SZZ1 – Amazon Fulfillment sp. z o.o., Kolbaskowo 156, 72-001 Kolbaskowo
#POZ1 – Amazon Fulfillment, Poznanska 1d, 62-080 Sady
#KTW1 – Amazon Fulfillment sp. z o.o., Inwestycyjna 19, 41-208 Sosnowiec
#WRO1 – Amazon Fulfillment, Czekoladowa 1, 55-040 Bielany Wrocławskie
#WRO2 – Amazon Fulfillment, Logistyczna 6, 55-040 Bielany Wrocławskie
#WRO3 – Amazon Fulfillment, Czekoladowa 1, 55-040 Bielany Wrocławskie
Spain
#BCN1 – Amazon Fulfillment, S.L., Avinguda De les Garrigues 6-8, 08820 El Prat de Llobregat, Barcelona
#BCN3 – Amazon Fulfillment, S.L, Carrer Ferro, 12, 08755 Castellbisbal, Barcelona
XESA – XPO Logistics, Avenida Río Henares, 16, 19208 Alovera, Guadalajara
XESB – Avenida Del Río Henares, 19208 Alovera, Guadalajara
MAD4 – Amazon EU Sarl C/O Amazon Fulfillment, S.L, Avenida De Astronomía, 24, 28830 San Fernando De Henares, Madrid
MAD5 – Polígono Industrial Los Gavilanes, C. Severo Ochoa, 28, 28906 Getafe, Madrid
BCN2 – Amazon Fulfillment, S.L., Carrer De La Veranda, 22, 08107 Martorelles
XESC – Kuehne & Nagel Warehouse, Amazon Deliveries, Avenida de las Puntas, 10, 43120 Constantí, Tarragona
Unlock the full potential of your business with Helium 10
Start your Amazon seller journey with the most in-depth and detailed keyword research tool